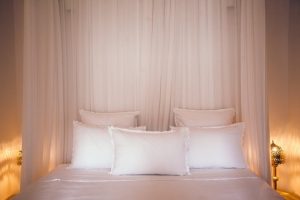 Maybe Portland is not one of the top destinations in the USA, but we assure you that it is certainly worth visiting.
The city is small and compact, but it is located near the beautiful Oregon coastline, which makes it even more attractive to hipsters.
Portland has cool style and character which is reflected through little cafes, chic and cheap vintage shops, and eco-minded hipsters.
If you wish to experience true Portland, you need to come and stay there.
It offers excellent accommodation in some of its unique hotels.
We have gathered some cool, quirky, top-rated, and unusual hotels in Portland, Oregon so as to help you decide where to stay.
McMenamins Kennedy School – a cool offbeat hotel set in a restored 1915 elementary school
McMenamins Kennedy School hotel is set in a building that was built back in 1915.
It used to be Art Nouveux era elementary school, and nowadays it has been transformed into one of the fun places to stay in Portland.
It certainly deserves the first place on our list, being that half of its 57 boutique rooms maintained the original classroom character.
That is not all, as the other half of the rooms have been designed with literary themes.
This exceptionally rated McMenamins Kennedy School hotel serves beer and freshly roasted coffee, as well as the house brew in the Concordia Brewery.
Guests can listen to excellent live music or eat delicious specialties in the Courtyard Restaurant.
if exploring the Portland landmarks tires you, you relax by the outdoor swimming pool or watch a movie on the auditorium cinema screen.
All in all, McMenamins Kennedy School is a place that suits every person's taste.
Jupiter Hotel – hip retro/chic boutique hotel converted from a midcentury motor lodge
Jupiter Hotel is the perfect place to stay for everyone, from modern travelers who are in search of high-end luxury to those interested in culture.
The highly-rated Hotel Jupiter is so popular among tourists due to its excellent location in the Burnside area of Portland which is only a 5-minute drive from Downtown.
We are sure that this is the place for you, as it suits every raveler's taste.
Those who prefer parting all night are offered the bar side of the hotel, next to the Doug Fir Lounge and Restaurant.
There you can try excellent food, and beer, and enjoy live music.
on the other hand, those who wish for a more peaceful stay in Portland can choose a room on the more quiet side of the hotel.
All rooms boast 1950's American dream-inspired décor.
When it comes to amenities, the rooms are equipped with free WiFi and flat-screen TVs.
Generally speaking, you will have everything you need for a comfortable stay in Portland.
For lovers of culture, there is a cool 24-hour art gallery and a contemporary courtyard patio with a fire pit.
This is created so as to support local artists and small businesses.
The hotel organizes a 'reception for the artist' every first Friday in a month.
This event actually allows guests to mix with local artisans and exchange opinions.
Staypineapple at Hotel Rose – a  modern hotel with a colorful kitsch-style decor
When you hear the name – Staypineapple at Hotel Rose, you are already attracted by this hotel.
Each and every visitor claimed that staying at a Staypineapple Hotel is quite an experience which made them one of the highly-rated hotels in Portland.
Staypineapple at Hotel Rose is set in downtown and it is just one block from a MAX light rail station.
Inside the hotel, guests are astonished by the ultra-comfortable rooms with spectacular views of the city, waterfront, and park.
All the rooms are spacious, comfortable, well designed, and equipped with an ergonomic chair, and a wonderful walk-in rain shower.
Plus, there are communal spaces with a massive fireplace where you can sip your cocktail.
When the amenities in this unique Portland abode are in question, we cannot but mention the gym and coffee and cookies in the afternoon.
In your room, you will find an iPhone dock/ Bluetooth speaker, and big TV.
Of course, you will get the help of the friendly staff if needed, especially if you are looking for local things to do.
This is a hotel in Portland where even pets can stay as well.
Caravan, The Tiny House Hotel – a unique hotel
Caravan deserves the place of the most unusual hotel in Portland.
It has got the nickname 'tiny house hotel', as it consists of six small houses on wheels.
Caravan hotel is set in Alberta Arts District and its houses are sized from 120 to 170 square feet.
The houses have unique designs and are all set around an intimate fire pit so that you can sit there and get familiar with the neighbors or just relax with a drink
What makes this unique Portland hotel attractive is not only the welcoming and very cozy stay, but also the exciting restaurants, pubs, bars, and shopping areas in the immediate neighborhood.
Ace Hotel – a unique and trendy downtown hotel set in a historic landmark property
Ace Hotel is a funky Portland hotel attractive to travelers who are on a budget.
This is quite an affordable option that is at the same time stylish and comfortable.
What makes it attractive is its location, meaning that it is set in a historic building in downtown Portland.
Being that it is in the heart of the city, The Ace Hotel is near all the city sites as well as public transport links so that you can get easily wherever you want.
If we take into consideration the interior of the hotel, we have to mention spacious rooms that are specially decorated by local artists.
In some of them, tourists can use free WiFi, minibars, and flat-screen TVs.
For food lovers, there is the Clyde Common restaurant and bar where they can taste home-cooked food.
Exploring Portland should definitely be one of your activities while staying there so you can try borrowing bikes or renting a bespoke handmade bike created for the hotel by artist Jordon Hufnagel.
The hotel boasts cozy communal spaces where you can meet and have a talk with fellow travelers, play a vinyl record or two or use the gorgeous vintage photo booth.
Hotel Vintage – trendy accommodation and one of the best hotels in Portland
Hotel Vintage is yet another highly rated hotel in Portland, which is set just half a mile from Governor Tom McCall Waterfront Park on Willamette River.
Furthermore,  it is just an 11-minute walk from the Portland Art Museum, which tourists find attractive.
This is a cool Portland hotel with a 4-star rating, that boasts delightful design details.
You cannot but notice a floating staircase and a bunch of grapes chandelier.
There is also an adult games room and two eateries.
You can choose between visiting the Pazzo restaurant that offers local wines and Italian cuisine, or the casually cool Bacchus Bar which has craft beers and wines as well as old-school arcade games and a pool.
Or you can visit both if you wish to have the full experience.
Guest rooms are equipped with flat-screen TVs, and mini-fridges while for those who are ready to pay more, there are upgraded rooms that come with hot tubs and balconies.
The hotel is pet-friendly and offers a modern 24-hour fitness center.
Sentinel Hotel – a creative and refined hotel housed in an elegant historic building
Sentinel Hotel is a luxurious 4-star exceptionally rated abode in Portland.
Sentinel Hotel is set in a historic terracotta building that was built in 1909.
It is located in the heart of downtown Portland.
If you take a look at its wonderful interior you will notice that it is a mixture of old-time luxury and contemporary ideas.
Observing eye notices black and white prints of inspirational people and 20th-century local art.
In case you like watching this beautiful city, you can stay on the top floor, and you will also have access to the lovely 'Room at The End Of The Hall'.
This is the name of a relaxing lounge that is designed to inspire creativity.
The hotel boasts a modern 24-hour gym and once you are tired of exercising, you can try some tasty food in the hotel's two upscale restaurants.
What makes visitors amazed in this hip Portland hotel is beehives on the roof which supply the hotel with local honey.
The hotel is pet-friendly, and facilities in its rooms are free Wi-Fi and flat-screen TVs.
All in all this abode is a combination of luxury and free-thinking.
McMenamins Crystal – a cool and historic Portland institution
McMenamins Crystal's location is perfect for travelers who want to enjoy downtown Portland.
This Portland hotel is inspired by The Crystal Ballroom's extensive musical history.
McMenamins Crystal is set in a building that was built in 1911 and consists of 51 rooms.
The design and décor of this hotel are influenced by one of the standouts shows at the Ballroom – from Blondie to The Flaming Lips.
Thanks to local artists and fans, it was managed to capture the atmosphere produced by these music icons.
Inside its rooms, there are private bathrooms, and pets and children under the age of 6 are allowed to stay for free.
The music theme is running throughout the hotel, and each room is named after a well-known musician.
Furthermore, you can enjoy fantastic city views from each and every room.
Other cool features are an indoor swimming pool, and a wonderful art gallery.
The hotel is situated in a historic building and its restaurant serves up food and brews made from only the finest Northwest ingredients.
Hotel Eastlund – a contemporary and trendy boutique hotel
Hotel Eastlund is considered ideal for guests who want to stay in the heart of the east side of the city.
This perfect abode is located 1.5 miles from Pioneer Courthouse Square and 3 miles from the Portland Japanese Garden.
Being that it is the 4-star exceptionally rated accommodation,  Hotel Eastlund should be your choice.
The hotel boasts a gorgeous and sophisticated 1960's design, meaning that there are so many geometrical shapes and 1960's chic shades.
In its rooms, you get free Wi-Fi, flat-screen TVs, and stunning city views.
For guests who are ready to pay more, there are upgraded rooms that have to offer soaking tubs as well.
The hotel's additional amenities are an onsite shop, fitness center, an amazing rooftop restaurant, and a delicious beer-centric menu.
It is not all, as there is an artisan bakery and a wine bar on site.
You can choose to stay in a King room which is spacious, bright, and clean, equipped with an enormous bed and artwork on the walls.
McMenamins White Eagle Rock & Roll Hotel – a cool music-themed hotel and saloon which dates from 1905
McMenamins White Eagle Rock & Roll Hotel is a popular accommodation for rockers.
This is due to the fact that this is a "rock 'n' roll" hotel that was opened in 1905 and since then it has been offering accommodation to its guests in 11 small but comfortable bedrooms.
The hotel is set in an industrial area of North Portland.
However, you will have everything you need onsite, astThe McMenamins White Eagle Rock & Roll Hotel even has to offer a great atmosphere in its bar with free live music almost every night
Also, there is Eagle's on-site pub where you can try great beer and tasty food.
For people who want to explore the city, and still stay in this hip Portland hotel, we have to mention that it is located near to public transport.
Hotel Modera – a stylish retro-chic boutique hotel
Hotel Modera is another 4-star highly rated hotel in Portland.
It is located two blocks from a MAX light rail station and a 6-minute walk from Portland Art Museum, which makes it attractive to tourists who want to explore the city.
Hotel Modera is designed so as to represent Portland's unique style and spirit.
It is a pet-friendly abode in the heart of town that has to offer everything a traveler would need for a refined and relaxing stay.
The boutique hotel boasts a zen interior courtyard.
You cannot but notice trendy fire pits and the city's first-ever living wall.
When its rooms are in question, they are equipped with flat-screen TVs, free Wi-Fi, iPod docks, and marble bathrooms.
Plus, each guest receives a free pass to a nearby 24-hour fitness center.
Trying excellent specialties is available in the onsite restaurant Nel Centro.
The tasty dining experience is made by celebrated Portland chef and restaurateur, David Machado.
So as t stay in this perfect Portland hotel, you will have to pay at least $115 per night
Hotel Monaco – a chic and trendy hotel
Among so many 4-star exceptionally rated hotels in Portland, there is one more that mixes eclectic furnishings and cozy vintage décor.
Hotel Monaco is set in downtown Portland and it is very close to some major sites.
The hotel is two blocks from a MAX light rail station and a 12-minute walk from Portland Art Museum.
Inside of it, there are beautiful vintage-styled rooms equipped with free WiFi, flat-screen TVs, in-room spa services, and designer wallpaper.
For people looking for more luxurious accommodation, there are upgraded rooms as well.
You can take advantage of living rooms, lush whirlpool tubs, and wonderful city views.
What travelers attract the most is the fact that pets are welcomed with treats.
Besides a gym for hotel guests, there is also the on-site Red Star Bar where you can try cocktails. It also serves one of the largest whiskey selections, microbrews, and local wines from the Willamette Valley.
In the Red Star Tavern, you can try various delicious dishes made of local organic ingredients. If you wish to stay in this central DownTown SouthWest Portland hotel, you will need to pay at least $140 per night.
Duniway Hotel – a cool new lifestyle hotel
Duniway Hotel is the newest hotel in Portland.
This is the 4-star exceptionally rated hotel that belongs to the most popular places to stay while in Portland.
Its location is even more attractive, as it is set in a tree-lined street in downtown Portland.
You will be so close to cool shops, bars, and restaurants.
Duniway Hotel is for those who have high standards, as the hotel's luxury and polished rooms have lots of mod cons.
It is the guests' opinion that upgraded rooms and suites are spectacular.
When it comes to other hotel highlights, we need to mention the hotel's restaurant/bar run by celebrity chef Chris Cosentino.
Additionally, you can relax by an indoor pool, a modern gym, and a furnished terrace where you can listen to live music and have yoga classes.
The Lion and The Rose – a characterful guesthouse with vintage style decor
The Lion and The Rose accommodation is set very close to an Avenue MAX Station.
It is not a typical Portland guesthouse, being that it an amazingly redecorated Victorian mansion.
The designers have made it for nostalgic souls, as the abode is elegant with quite a lot of attention paid to provide comfort and amenities.
If you stay in the smallest room, named The Avandel, you will notice that it was decorated with attention to detail and the perfect period touches.
Some of the other highlights of this accommodation are the porcelain tub which stands on golden lion's feet upon a polished marble floor.
Furthermore, the floral motif can be seen in the drapes, tiles, and wallpaper.
Hotel Deluxe – old school Hollywood glamour
Hotel Deluxe is another 4-star exceptionally rated Art-Deco hotel.
On each and every step you can notice the glamour of Hollywood's golden years.
We cannot but mention the silver screen and a magnificent collection of film stills from the 1930s through to the 1960s.
Furthermore, each floor is a homage to a director, actor, or era in cinema from Hitchcock to Gene Kelly, from Brando to Bardot.
Additionally, Hotel Deluxe is located in a central DownTown location which makes it even more attractive to travelers.
It is only a 3-minute walk from Jeld-Wen Park and 10 minutes from Providence Park MAX Station.
This means that you will be close to everything if you decide to stay in this Portland hotel which dates from 1912.
Vintage rooms are made comfortable to trendy visitors as they possess all the mod cons like WiFi, iPod docks, and flat-screen TVs.
You can enjoy yourself in communal spots and drink your Afternoon Tea in the luxurious lobby.
For cocktail lovers, there is a chance of sipping it in the 1950s-style cocktail lounge.
All in all, this place can make you feel like a movie star.
The Nines Hotel – a fabulous hotel
The Nines Hotel is yet another 4-star rated hotel in Portland.
Hotel Nines boasts fascinating design.
The designers have invested a lot of effort and energy into creating a stunning interior.
You cannot but notice the wonderful artwork supplied by the local art college as well as the innovative play on light and space that characterizes The Nines.
the hotel's building has been brought to life by Meier & Frank in 1909 and it used to be their flagship department store and headquarters.
Another advantage of this hotel is its location in a fabulous DownTown.
The Nines hotel in Portland is just a minute's walk away from the 6th Ave MAX light rail station and 10 minutes walk from Portland Art Museum.
The amenities in rooms are flat-screen TVs and Wi-Fi, while upgraded rooms offer complimentary evening cocktails.
If this is not enough for you, there is the library-themed cocktail bar, the modern fitness center, the rooftop restaurant for people who would like to try Asian fusion cuisine, as well as the onsite restaurant serving American food.
All in all, this is not a budget stay in Portland, but it is definitely worth a visit.
The Inn@Northrup Station – a fun and colorful hotel
This amazing hotel in Portland will astonish you in case you are a lover of colorful retro kitsch.
The Inn@Northrup Station is an abode which is located in NorthWest Portland.
It is so attractive to tourists due to the fact that it is close to boutique shops, craft breweries, and cafes.
Plus, its location is on the eco-friendly streetcar line, making your travel to downtown so easy.
Some of the guests even decide to communicate with the street scene from the balcony or the communal rooftop terrace.
Hotel Aloft – a modern hotel near the Cascades MAX light rail station
Hotel Aloft is not like the airport hotels you may have gone to, as this one is so awesome and is definitely worth your attention.
The hotel is not boutique, as it is big, but we need to say that this is a designed hotel full of all the comforts.
The majority of guests enjoy the bar at this highly-rated Hotel Aloft with live music performed by local artists.
Besides excellent music every night, the cocktails are good as well.
When the rooms are in question, they are bright and comfortable.
The hotel has all the amenities that you might need.
If you are searching for Portland airport accommodation, this hotel should certainly be your option.
Bluebird Guesthouse – a cute and cozy bed and breakfast
When designers created Bluebird Guesthouse, they wanted to make a place that will be something like a hotel/ B&B/ self-catering cottage.
So, this is mixed into one place located in a restored Arts and Crafts house in the Division/Clinton Neighbourhood of Portland.
This is an excellent location, being that it is within walking distance of the boutiques and cafes of Hawthorne.
Plus, if you want to visit Downtown, you can take a short bus/car/bike trip.
This place is cozy, and what makes it stands out from others is that it encourages its guests to get together.
Once visited, it makes you feel sad to leave it, due to the peace and comfort of its rooms.
Rooms are named after great American writers and all of them are light and bright.
You can stay in a quiet attic room with a skylight looking up into the stars.
We would like to recommend this Portland accommodation for people who are traveling alone and who are on a budget.
Another suggestion is to make sure you book your room on time as rooms are almost always taken way in advance.
The Heathman Hotel – a fabulous upscale hotel made famous by the Fifty Shades novel
The Heathman Hotel is yet another excellent abode in Portland, located in a DownTown.
It is set in a historic building that dates back to 1927.
We need to mention that this hotel offers a deluxe boutique experience and it definitely deserves the 4-star rating.
Plus, its location in the heart of Portland, close to all the highlights, sights, galleries, parks, and museums makes it even more attractive to travelers who want to explore the city.
The hotel is only three blocks away from the Pioneer Square South MAX Station.
You cannot but notice its classic elegance.
Furthermore, the hotel became famous due to the fact that it was the place of Ana and Christian's first rendezvous in Fifty Shades of Grey.
its rooms are spacious and perfectly designed and equipped with flat-screen TVs, French press coffeemakers, twice-daily maid service, and free Wi-Fi.
For those looking for more luxury, there are suites that offer 4-poster beds, whirlpool tubs, and living rooms.
Some of the other highlights of this hotel include a swish fitness center, an intimate Tea Court Lounge, live Jazz twice a week, and wine tastings offered on weeknights.
Not only it deserved four stars rating, but this is award-winning accommodation.
So as to suit every traveler's need and desires, it boasts an 'Art of Sleep' bed menu meaning that guests can choose from a selection of sumptuous mattresses.
If you think that this is it, you are wrong, as the hotel boasts a 'pampered pets package' for your furry friend.
Society Hotel – a former sailor's lodge
Society Hotel is actually located in a gorgeous New York Style cast-iron building, which was built in 1881.
Today, it is attractive and exceptionally rated The Society Hotel being that it is a budget boutique hotel, suitable for every kind of traveler.
Its location, right in the center of downtown Portland,  in the Chinatown/Old Town area is yet another advantage of this abode.
It is close to a nightlife hub, dance clubs, and cocktail bars in Portland.
When it comes to its rooms, guests can choose.
There are hostel-style bunks and simple private rooms with shared bathrooms if you are looking for affordable accommodation in Portland,
Furthermore, there are suites for people desiring a bit of luxury, equipped with free Wi-Fi.
The hotel's interior is made of cool wooden floors and exposed brick walls.
You cannot but notice a collection of historical artifacts and a roof deck that offers amazing views of downtown Portland and the Willamette River.
All in all, it can be said that this Portland hotel is a perfect option for a budget traveler.
The Hoxton – a hip boutique hotel
The location of the Hoxton hotel is in historic Chinatown, which means that visitors can have access to all areas of the city.
You can go wherever you want by rail, taxi, and other public transport.
This boutique hotel is designed as a mixture of modernism with reference to Portland's historic past.
It boasts tasteful furnishings, retro ornaments, and large windows.
Other highlights are a rooftop restaurant with stunning views of the city and the basement bar where you can sip your cocktail, beer, or eat some snacks.
Pearl Apartments – modern and swish self-catering accommodation
Pearl Apartments are another accommodation in Portland that allows the stay of pets, which is very important for many travelers.
Even though this is not a hotel, Pearl Apartments are taken as a perfect alternative.
It has to offer bright, airy, and ultra-modern apartments,
Right in front of it, there is the fantastic Pearl District, where you can visit boutique shops and eateries.
Plus, for people who like cooking themselves, in this apartment, you will have the opportunity to cook up our own recipes.
Stay Alfred Apartments – a refined Portland apartment hotel
Stay Alfred Apartments are ideal for people coming to Portland but are not looking for a hotel.
Here, you will have freedom and enjoy the comforts of modern living.
Stay Alfred Apartments are highly rated and excellent for budget travelers.
First, it has a perfect location right in the downtown Pearl District.
Then, it offers amazing views over the city, a communal roof terrace, and a gym.