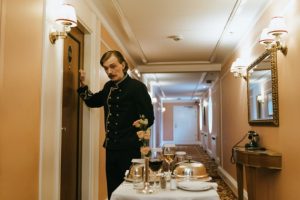 Have you ever thought of visiting New York?
Is it important to you to have great accommodation while being there, so as to fully enjoy your stay?
Well, for the majority of travelers, choosing the right hotel is of crucial importance, and we decided to make a list with basic information about some of the best and unusual hotels in New York.
If you are coming to the city that never sleeps here are some of the unique and creative places to stay.
We have to mention that many of the hotels in the Big Apple are really spectacular.
The Box Hotel deserves the first place on our list as this is the most charming and unique place to stay in New York.
It is set in a converted factory, and being that it has a very cool industrial-chic interior, it is definitely worth your attention.
The Box hotel is a 4-star and exceptionally rated hotel full of artwork created by local artists.
You cannot but notice great design features such as hardwood floors and pendant lamps.
its rooms are more like apartments, while the loft rooms and 1- to 2-bedroom apartments are equipped with kitchens, cozy living rooms, and pull-out couches.
If this is not enough, there are suite-like bedrooms that have free Wi-Fi, flat-screen TVs, coffee-making facilities, balconies that offer superb city views.
Other hotel highlights are a communal gym, a dry sauna, and a steam room.
Besides the fact that this is a fantastic New York abode,  another thing that attracts tourists is its location, just across the road from Pulaski Bridge in Brooklyn.
It takes only a 9-minute walk to get to the Greenpoint Avenue subway station and it is 6 miles away from the Empire State Building.
Hotel on Rivington – a sleek hotel and one of the sexiest hotels in NYC
The hotel on Rivington is so engrossing being that it is set in a 20-story glass tower near trendy SoHo in Lower East Manhattan.
Its location is a perfect one, as the hotel is one block away from the subway and within walking distance of Tribeca, Nolita, Little Italy, and the East Village.
It used to be NYC's sexiest hotel and nowadays it has to offer spacious minimalist rooms equipped with Frette linens, free WiFi, flat-screen TVs with on-demand movies.
You will be amazed by the extraordinary views of the Manhattan skyline through gorgeous floor-to-ceiling windows.
The hotel on Rivington offers upgraded rooms with huge balconies and sumptuous Japanese-style soaking tubs.
The hotel also boasts a Mediterranean restaurant, a funky juice bar, the tequila and mescal bar with DJs, and the beautiful sky-lit atrium.
All in all, it leaves a lasting impression on its guests.
The Paper Factory – a unique industrial-chic hotel housed in a former paper factory
The Paper Factory is yet another amazing abode in New York, which is located just two stops from Midtown Manhattan.
In this 4-star and exceptionally rated boutique hotel, you will notice reclaimed wood ceilings, bare cement floors, and unique furnishings.
Being that it used to be a paper factory, the hotel keeps on celebrating its industrial past and it is furnished by floor lamps constructed from plumbing pipes, kitsch British phone booths in the lobby, and 1950s-style teal-green mini-fridges in the bedrooms.
This accommodation is located in Long Island City, so you will need only a 2-minute walk to reach the subway.
It was opened by the developer Gal Sela in December 2013.
The hotel also boasts a lively Mediterranean-Latin fusion restaurant and even the fashionable nightspot Mundo.
Arlo SoHo – an ultra-hip micro boutique hotel
Arlo SoHo is a place that is small but boasts a 4-star rating.
Actually, it is a micro-boutique hotel, but its location is ideal.
The hotel is set two blocks from the stores and restaurants of SoHo, and central Manhattan.
Plus, other neighborhoods such as Tribeca and Greenwich Village are so close that you can go there on foot.
When we speak about rooms, we have to mention that the designer combined contemporary furniture, including walnut alcove beds, with storage spaces and great technology.
Those who book an upgraded room will be able to enjoy large outdoor terraces.
Sipping a cocktail and craft beers is also one of the activities you can do here.
Various drinks can be tasted on the rooftop bar while resting in a sheepskin-clad sofa or ergonomic armchair.
Additional highlights of this hotel are the onsite library and the 24-hour artisan pantry Bodega.
YOTEL New York – cool and futuristic Japanese style hotel in central Manhattan
When we think about the YO! Hotel, the first thing that comes into our mind is that this is fun, funky, and highly innovative accommodation in New York.
Its designers were inspired by the Japanese culture, so they made YOTEL a unique accommodation.
This abode is typically chosen by the fans of technology and design.
If you are one of these, you can find it located in lively Times Square.
This means that you will get a stay in the hip central New York hotel, surrounded by action, but without the designer price tag.
It can be described as a hotel where space-age minimalism was combined with futuristic technology and a quirky hotel décor.
Guests are amazed by cabins that feature motorized beds that can be transformed into sofas, a 'techno wall' with a flat-screen TV, a work desk with iPod connectivity, free WiFi, and local phone calls, which are just some of the highlights of this NYC hotel.
An upgraded room has private terraces, soaking tubs, and sofas.
Excellent features of this hotel include automated check-in kiosks, self-service amenity machines on each floor, and a rooftop terrace that is both a restaurant and nightclub.
The Jane – stuffed monkeys in the Meatpacking District
The Jane is an abode in NYC that is highly regarded and much-loved by its earlier guests.
Its location is great, as The Jane is set on the edge of the Meatpacking District's nightlife hub which means that it is six blocks away from High Line park and a subway stop.
This is a budget boutique hotel that features rooms inspired by old-fashioned train cabins.
Its history shows that this hotel has changed various times.
First, in 1912, it sheltered survivors of the Titanic.
Then, in the 1920s, it became a place for sailors and it was finally restored in 2008.
Today's hotel has compact cabin rooms equipped with modern amenities like free Wi-Fi and iPod docks.
Plus, all rooms have either Hudson River views or terraces.
You can also book a larger upgraded room, with additional amenities, but you will have to pay more.
Guests often visit a popular onsite restaurant for brunch, even to the locals, and an opulent Victorian-style lobby bar.
Something that we cannot but mention is the hotel's décor, which is exceptionally unique with authentic old-school bellhops, maids dressed in black and white uniforms, carved moose heads, and stuffed monkeys with fez hats.
All in all, this is definitely one of the coolest hotels in New York.
CitizenM Hotel – fun and full of color
CitizenM Hotel belongs to a popular Dutch hotel group.
This accommodation is affordable and luxurious at the same time.
You will notice liberal use of color in the decor, and this 4-star exceptionally rated Manhattan hotel can never be considered boring.
Furthermore, it boasts an excellent location, on the corner of Broadway.
It takes only an 8-minute walk to Times Square and an 11-minute walk to Central Park.
You will stay in the bright, stylish rooms at CitizenM that are equipped with free movies, Wi-Fi, a rain shower, huge windows, a king-sized bed, and a cool MoodPad gadget, that is actually a touch-screen device allowing guests to control the room's impressive electronics.
You should not leave this place without grabbing a cocktail, seeing the gorgeous cityscape views from the rooftop bar, or at least trying out their breathtaking 20th-floor gym.
Moxy NYC Chelsea – a popular central hotel with botanically inspired design
Moxy NYC Chelsea is well known as a botanical-themed hotel in Midtown Manhattan.
It is so attractive to tourists due to its central location in New York's Flower District.
Plus, it is a walk away from 28th St Station, Broadway, and Madison Square Gardens.
All these make the Moxy NYC Chelsea an excellent place to stay if you wish to travel all over the city.
The hotel features floral decor and perfectly fits into the style of the neighborhood.
There are many other reasons why this is one of the most popular accommodation options in the city.
First, there are modern elements that give guests a luxurious feel combined with subtle lighting and upscale service.
The bedrooms have floor-to-ceiling windows through which you can see the city's famously gasp-inducing skyline and the neighboring Empire State Building.
The Evelyn – a trendy hotel that mixes Gilded Age-glam with a modern style
The Evelyn is a hotel in NYC formally known as The Gershwin.
It used to be a shabby chic art hotel but it was transformed into a glam Beaux-Arts boutique hotel.
The hotel is highly rated, but still has a value for money focus.
Guests like its bright red facade and it is located in the heart of the Flatiron District which is just a 3-minute walk from Madison Square Park and a few blocks away from The Empire State Building.
We can say that its designers wanted to achieve Gilded-Age chic mixed with modern touches.
You should not miss an onsite elegant Italian trattoria, Mediterranean restaurant, a cafe, 24-hour gym, and a lobby lounge, and all these for a reasonable price.
Pod 39 – join the Pod revolution
Pod 39 actually fits the trendy but budget niche.
It is perfectly located in the heart of Midtown Manhattan and it is a 6-minute walk away from Grand Central Station and a 13-minute walk away from the Empire State Building.
What all visitors have noticed is that this is one of the fun hotels in New York that is so clean and modern with funky murals and very colorful decor.
The highly-rated Pod 39 offers bright communal spaces and the on-site restaurant Salvation Taco where you can try delicious specialties made by Michelin starred chef April Bloomfield.
Guests tend to visit the rooftop bar, as it is one of the coolest hang-out areas in the city.
The best thing of all is that this abode is reasonably priced and an excellent choice for travelers who look for a fancy downtown Manhattan hostel.
Made Hotel – a boho design hotel
Made Hotel is set amongst all the well-known bars and eateries of the NoMad neighborhood, Manhattan.
Its location is also attractive as it takes only a 2-minute walk to get to the nearest subway station from which you can go to every part of the city.
Plus, it is only a 7-minute walk from the Empire State Building.
If you take its decor into consideration, it is well known for its raw-material interiors, concrete ceilings, and lashings of real wood.
Plus,  there are oversized floor-to-ceiling windows at this highly-rated 4-star Made Hotel so that guests can enjoy superb views of both the NoMad neighborhood and the Empire State Building.
Its rooms are also gorgeous as they feature free Wi-Fi, smart radios, flat-screen TVs, and oak platform beds.
If this is not enough for you, it is worth mentioning that this abode is full of additional highlights such as a basement restaurant and an onsite coffee shop.
Its greatest highlight is definitely the killer rooftop cocktail bar where you can try tiki-style drinks while enjoying panoramic city views.
Nu Hotel – a condo-style hotel in Brooklyn
Nu Hotel is known as the first condo-style boutique hotel which is set in downtown Brooklyn.
The hotel takes the first four floors of a new condo building.
Its location is perfect as it sits just across the East River.
You can easily reach all the other parts of the city by subway which is only a short walk away.
In this 93-roomed New York hotel, there are bright and airy loft-style rooms that are built to look like condos.
They are all spacious, equipped with eco-friendly retro modern furniture.
In case you look for larger rooms or apartments, you will be able to find extra swanky decor, kitchens, and a swinging hammock inside.
Some of its additional amenities are free breakfast, a 24-hour gym, a babysitting service, loaned bikes, and guest-use iPads.
You can visit a trendy bar and lounge where you can try cocktails and Spanish-style fare.
Night Hotel – dramatic monochrome glamour hotel
Night Hotel is the fabulous Gotham city-inspired 4-star hotel that boasts a striking noir-style monochrome design.
This is a 4 star rated abode with various upscale amenities including sumptuous linens, iPod stereos, LCD TVs, and free access to the nearby New York Sports Club.
Furthermore, it has an ideal location in Times Square, Manhattan.
Guests liked this because they stay within walking distance from the fashionable theatre district.
It is so close to other awesome central city attractions – the Rockefeller Center, the New York Public Library, and Christie's.
The night at the Night costs around $110.
The Paul Hotel – a funky industrial-chic hotel
The Paul Hotel is both funky and affordable which makes it attractive to many tourists.
Plus, its location is amazing, as it only a seven-minute stroll from the Empire State Building and very close to the famous department store Macy's.
This is a 4-star highly rated hotel and it belongs to the prestigious Ascend Hotel Collection.
As it is a member of this collection, you can assume that The Paul is definitely one of the trendiest and most popular stays in New York.
When you enter its contemporary rooms full of bright color you will notice that it offers free WiFi, large flat-screen TVs, and premium bedding.
There are certain rooms that provide guests with spectacular views of the city.
In family rooms, there are fun bunk beds.
You should not leave the place without visiting its wonderful rooftop terrace, and fabulous gym.
W Times Square – a sophisticated celebrity haunt
The W hotels belong to the most prestigious brands.
W Times Square is not an exception, as it is furnished to an exceptional standard.
We consider it worth mentioning that this highly-rated version set in Times Square is one of the most popular hotels in the city.
This is a luxury 4-star very cool Manhattan hotel not far away from the subway which can lead you to all the other parts of the city.
Some of the highlights of this amazing abode are plush robes, high-thread-count linens, Times Square views, and cutting-edge technology.
Other cool amenities include a gym, a Mexican and sushi restaurant, a lounge where you listen to Miles Davis, John Coltrane, and Dizzy Gillespie, and a cocktail bar.
It has everything a traveler would need, plus, pets are welcome.
Sohotel – a trendy budget boutique hotel
Sohotel does not belong to 4-star hotels but is definitely one that should be on our list.
This is a highly regarded 3-star boutique NYC hotel which can be found in Lower East Side Manhattan.
It is so close to the fabulous restaurants and buzzing life of Little Italy.
Being that it dates back from the 19th century, it boasts a fabulous redbrick facade, uniquely decorated rooms combined with the usual modern facilities.
It had everything that you expect from a boutique hotel, affordable and without a designer price tag.
Guests tend to say that its decor is exceptional for the price.
They liked a retro/modern vibe with dark woods, stylish exposed brickwork, and animal print furnishings.
All the necessary amenities are available in rooms such as free Wi-Fi, flat-screen TVs, and iPod docks.
Inside this hotel, there is a pizzeria/wine bar, a craft brewpub, and a cool cocktail bar.
So, you can enjoy your stay here without breaking the bank.
Americano Hotel – an ultra-chic zen-like hotel
Americano Hotel is so attractive and well known as it is located in the heart of Manhattan's art gallery-strewn Chelsea district.
It is just a 6-minute walk from High Line park and a 10-minute walk from a subway station, making this hotel an amazing abode for people who want to have everything at their hand and explore the center of the city.
Americano hotel is a highly rated 4-star New York hotel with 56 rooms that feature wooden platform beds, bean bag chairs, iPads, fabulous city views, and handmade denim bathrobes.
Those who are ready to pay more can take a more expensive room and have a sumptuous Japanese-style soaking tub.
On the rooftop, there is an outdoor pool in summer which transforms into the concept restaurant Arriba during the winter.
Roxy Hotel – a hip hotel art deco style hotel
Roxy Hotel is a very modern accommodation located in historic Tribeca.
This is known as the richest area in Manhattan, so you can imagine how wonderful this hotel is.
It is close to SoHo, the Hudson River, and a subway, so it is ideal for every kind of traveler.
The 4-star and exceptionally rated Roxy Hotel boasts 1960's décor and its designers have thought about each and every detail.
It offers unrivaled service and fantastic rooms with vintage-style furnishings and kitsch 1960's radio.
Those who like sipping a cocktail can visit the cocktail lounge, funky restaurant, and chic lobby bar.
The hotel also features original brick walls and marble floors.
In its basement, there is The Django, a cool jazz bar.
You can enjoy live acts and DJs providing cool tunes.
The best of all is the Roxy Cinema, where visitors can watch a curated selection of old classics, as well as new independent flicks.
Once you come here, you will wish to stay forever.
Dream Downtown – an extraordinary and highly Instagrammable hotel
If you wish for an Instagrammable hotel, you should go to Dream Downtown, located in a really hip central location.
The hotel boasts 4-stars, highly rated, and the word that best describes it is – spectacular.
Travelers are attracted by its location between the Meatpacking District and Chelsea in Downtown Manhattan.
It means that the abode is close to a subway and a 4-minute walk from The High Line.
What makes it different from other hotels in the neighborhood is that it is maritime-themed with amazing amenities.
You can stay in loft-style rooms that are spacious and luxurious.
Each of them has porthole windows with stunning views of the city, huge flat-screen TVs, luxurious linens, and free WiFi.
For higher prices, visitors can get upgraded rooms that offer HDTV projectors and surround-sound systems.
The most expensive are suites that have landscaped terraces with hot tubs.
Besides spectacular views, other hotel highlights are a glass-bottomed infinity pool that floats above the hotel lobby, a rooftop lounge, a fusion restaurant serving Japanese and French cuisines, boutique shopping, a 24-hour fitness center, and a beach with a beach club.
138 Bowery – a cool and casual warehouse-style hotel
The 138 Bowery Hotel is located in Little Italy near New York's trendy SoHo neighborhood.
Its closeness to Lower, Midtown, and Upper Manhattan makes it a desired place for a stay.
The hotel is set in a newly renovated warehouse-style building.
NYC hotel is close to Bowery Station, the Grand St Station, and the Empire State Building, so you can get to every part of the city if you wish to explore it.
its interior has retro furnishings and offers a 1960's vibe.
Other room amenities are floor-to-ceiling windows that provide a lot of light.
Excellent bedrooms and modern bathrooms are provided at a very reasonable price.
If you want an authentic NYC vibe, you can always ask for a room that overlooks the inner yard.
BKLYN House Hotel – a creative and hip budget boutique hotel
BKLYN House Hotel is a modern and chic hotel set in the Bushwick neighborhood of Brooklyn.
Travelers are attracted by the fact that it is only a 20-minute away from Manhattan.
Once when Manhattan has not been the most attractive part of New York, Brooklyn has been the place to be for hip creative types, and all the artists, musicians, entertainers were visiting Bryklin,
The result of this moving over the bridge to Brooklyn is vibrant cultural hubs like Bushwick.
the BKLYN House is a very popular hotel that has a great combination of bright and bold murals by local artists.
The other amenities are comfortable rooms, complimentary breakfast, and talkative staff.
We highly suggest this accommodation to those who want to get away from the typical New York tourist traps.
The Library Hotel – a book-themed boutique hotel
The Library Hotel is an ideal place for people who like books.
This is a themed hotel that boasts the 4-star exceptional rating and is a few steps away from the New York Public Library in Madison Avenue, Midtown Manhattan.
This is a boutique accommodation with a library theme while each floor is dedicated to one of the Dewey Decimal System's categories.
Plus, each room is decorated according to a different genre or topic.
Bedrooms are equipped with 150 books which include everything from erotic fiction to topics of economics and computers.
The hotel offers reading options at the front desk, in the restaurant, and also in the hotel's dedicated reading room.
Reading and learning is not the only thing that can be done here.
There is a rooftop bar known as The Writer's Den & Poetry Garden, which serves tasty and literary-themed cocktails.
The Ace Hotel – a hip hotel and cultural hub
The Ace Hotel is another exceptionally rated 4-star contemporary boutique accommodation in New York.
It is located in the trendy NoMad neighborhood, meaning that you can reach a subway station in 2 minutes, and it is only a 7-minute walk from the Empire State Building.
The Ace was created in cooperation with local designers, artists, and independent businesses.
The result is rooms that feature DJ turntables, guitars, Smeg mini-bars, and scrawl-able chalkboard walls.
However, there are different rooms, depending on the budget of the visitor.
There is a budget bunk bedroom for those who do not want to break the bank as well as a large and very impressive corner suite for those looking for luxury.
Other highlights are an onsite cool bar, a trendy restaurant, and an art gallery.
Carlton Arms – a creative budget hotel
Carlton Arms is a 3 star highly rated hotel that is considered ideal for people coming to NYC on a budget.
It has a great location, just a 6-minute walk from both Madison Square Park and the subway.
Carlton Arms is an abode that welcomed a few celebrities, while the uber-famous street artist Banksy has painted there as well.
It consists of 54 rooms that have been designed and hand-decorated by an artist and this resulted in a liberal explosion of color.
McCarren Hotel and Pool – hip hotel with a little touch of kitsch
The McCarren Hotel and Pool is definitely a place for people with children, as all the cool kids hang out in this highly-rated 4-star accommodation.
The McCarren Hotel and Pool is located in one of the hottest neighborhoods in Brooklyn, Williamsburg.
This means that you will be set near Bedford Avenue subway and you will be able to get into Manhattan in 10 minutes.
Boutique shops, a cool brewery, eateries, and hot nightspots are all around this hotel.
The hotel boasts a colorful kitsch design, rooms equipped with free WiFi, Frette linens, and glass-enclosed rain showers.
Plus, there is the Thai food served in the hotel restaurant and in the summer the large pool is full of both the l locals and tourists.
Pod 51 – a fun and funky budget hotel
Pod 51 is better than a hostel as it is highly rated and is definitely an excellent choice for people who do not want to break the bank in New York which is quite an expensive city.
Travelers like its rooms that are on the small side, but very comfortable.
They are equipped with an en-suite, air-conditioning, meaning that they offer everything you need.
When its location is in question, the hotel is located in the cool area of Manhattan Midtown East.
It is so close to everything a visitor would want to explore.
Being that the staff is friendly, we consider it a great choice for solo travelers, as they can meet fellow guests as well as locals.
Wythe Hotel – a hip hotel housed in a historic, refurbished factory
Wythe Hotel is well known and so attractive due to the fact that it is housed in a former 1901 factory that sits on the Williamsburg, Brooklyn waterfront.
It takes 5-minutes to get to the Brooklyn Flea Market and 0.4 miles to reach the nearest subway station.
You will be quickly taken into Manhattan.
It is worth mentioning that Wythe Hotel is an exceptionally rated 4-star New York hotel with fabulous river views which are available from a room on the upper floors.
When the rooms at the Wythe Hotel are in question, they not only feature custom-made furniture, and heated cement floors, but also high ceilings, surround sound systems, and unique artwork.
In certain rooms, you will find arched windows with skyline views.
You should not leave this abode without dining at the farm-to-table restaurant or sipping a cocktail on the popular rooftop bar.
Room Mate Grace – an elegant family-friendly boutique hotel
The first thing that we want to mention about the Room Mate Grace accommodation is that it is both a reasonably priced and exceptionally rated contemporary boutique hotel which is not so frequent case in New York City.
Thie abode is located right on the iconic Times Square, and being that it is near a subway station, you can easily reach all the parts of the city if you wish to explore them.
Its guest are amazed by the staff that is both friendly and helpful, available, and always in good humor,
When we take the hotel's decoration into consideration, we need to mention its eclectic vintage style with striking wallpaper and animal prints.
The rooms are comfortable, clean, and quiet which is not expected if you think about its location.
Aloft Hotel Manhattan – a colorful pet-friendly hotel
Aloft Hotel Manhattan belongs to the ever-popular Starwood brand.
This amazing hotel is brought to Manhattan, and guests can expect stunning designer decor and great service but what is even better, all the amenities are available at affordable prices.
This highly-rated urban boutique Aloft Hotel is located in the Financial District.
Being that it is near Wall Street and glittering skyscrapers, next to the Fulton Street subway stop and only a 7-minute walk from the New York Stock Exchange it is a frequent choice of both tourists and business people.
Inside its modern and trendy rooms, guests can find large flat-screen TVs, free WiFi, and desks with ergonomic chairs and bathrooms with walk-in showers.
In its lobby lounge, there are check-in kiosks, a cozy fireplace, and a handy billiards table.
Additional amenities are a hip bar with mood music and a pool table, a cocktail bar, a 24/7 convenience store, and a fitness center.
Both kids or pets are very welcomed with treat-filled goody bags.
The Ludlow Hotel – located on the Lower East Side
The Ludlow Hotel is not among the first ones on our list, but this 4-star exceptionally rated accommodation definitely deserves a place among the best hotels in New York.
Ludlow Hotel has an excellent location, being that it is set right in one of the coolest neighborhoods in NYC.
It is in the Lower East Side Manhattan, which is full of boutique shopping, and dining and only a minute's walk from the subway.
The Empire State Building is only 2 miles away.
This is certainly one of the hippest hotels in New York, full of sophisticated artwork, vintage furnishings, and boutique detail.
You need to try some specialties at the in-house restaurant 'Dirty French.'
Floor-to-ceiling windows, rainfall showers, city views, are only some of the highlights of this outstanding accommodation.
Standard High Line – glamour and partying with the beautiful people
Standard High Line is a glamorous 4-star and exceptionally rated abode in New York City.
Standard High Line attracts so many tourists as it has to offer spectacular cityscape and river views.
It is inside an 18-story tower that rises above the High Line urban park.
The location is excellent as well, being that it is set near the Meatpacking District nightspots, the West Village, Chelsea Market, and the subway.
Outstanding features of this wonderful modern hotel are a roof terrace with a hot tub, floor-to-ceiling windows, a German beer garden, rooftop crêperie, free bicycles on loan, and even exhibitionist bathrooms.
All in all, it can be said that this is a hotel to impress every guest.
Nomo Hotel – a unique hotel in SoHo
Nomo Hotel has an ideal location, in trendy SoHo, Manhattan.
Ou can find yourself surrounded by numerous boutiques and eateries once you get out of the hotel.
It takes only 3-minutes to get to Canal St. subway.
This is a highly rated New York 4-star hotel that offers huge stylish rooms, floor-to-ceiling windows through which guests can enjoy extraordinary views, high-thread-count sheets, marble bathrooms, and much more.
If you can pay more for an upgraded room, you will have sitting areas, while suites, which are even more expensive consist of living rooms and extra TVs.
Additional highlights are a gorgeous terrarium-style restaurant and bar, a cocktail lounge, and even rooftop massage services.
The lowest price per night in this paradise is $170.
Boro Hotel – a hip and contemporary hotel offering fabulous views
Boro Hotel is the last one on our list, but not at all less worthy.
It also belongs to the exceptionally rated 4-star hotels in NYC.
The accommodation is located in the Queens neighborhood in Long Island.
If you wish to explore the rest of the city, you can do it by getting to the subway and within 10 minutes, you will be discovering Manhattan.
Throughout your windows, you will get the perfect view of the Manhattan skyline.
All the rooms feature floor-to-ceiling windows, flat-screen TVs, and designer bedding.
Upgraded accommodation has balconies or patios.
Some additional hotel highlights are a cafe with a garden-view terrace and a rooftop bar.
In the hotel bar, you will be able to try amazing craft cocktails and socialize with a crowd.
This hotel offers a totally new experience and it is recommended to everyone.