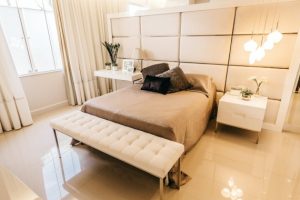 In case you are looking for craziness in the USA, you should not miss the fun of Las Vegas, the very well-known Sin City.
Besides being the home of casinos, this is a location that boasts some of the most unusual hotels to stay in the world
It has something for each person's taste, from old-school kitsch to excellent boutique hotels.
We have selected some of the best cool and unusual hotels in Las Vegas and we will share our opinion about them with you.
Aliante Casino and Hotel – funny and pampering
The first one on our list is the everlastingly popular Aliante Casino + Hotel + Spa.
The hotel boasts super 4-stars, 200 rooms and suites, five restaurants, and a 650 seat showroom.
Being that it is a highly rated hotel, travelers tend to visit it both for relaxation and enjoyment in an amazing spa, and stunning resort-style pool, as well as because of its 100,000 square feet of casino.
What makes it so attractive is the fact that it offers both the benefits of being at a resort and at the heart of Las Vegas at the same time.
Some of the features that you can find in its rooms are flat-screen TVs, bars, in-room refrigerators, and top-quality beds.
For golf lovers, there is also a golf course near the hotel.
How much you will have to pay for this luxury depends on the kind of room you choose, but prices start from $70 per night.
The LINQ Hotel – one of the best hotels in Las Vegas
Another excellent,  4-star hotel in Las Vegas that deserves to be at the top of our list is LINQ Hotel.
This hotel boasts stunning furnishings, an extraordinary spa and gym, a unique museum of classic cars, excellent restaurants and bars, an outdoor pool, and a casino.
What makes it even more attractive is its location, as it has one of the most central locations on the strip, quite close to the High Roller Ferris Wheel that is 550 feet above the skyline and gives astonishing views of the neighborhood.
Rooms are equipped with free WiFi and cable TV and prices start from $50 per night.
Las Vegas Vdara Hotel and Spa – a boutique hotel without a casino
Las Vegas Vdara Hotel and Spa is located in the City Center.
It is a block from the Strip, and it boasts a 5-stars rating.
What makes this hotel different from the others in Las Vegas is that Vdara Hotel will entertain every visitor even though it does not have a casino.
This luxurious Las Vegas hotel has a designed pool and spa, secluded plunge pools and stylish cabanas, and even a dog park.
Additionally, you can enjoy various cuisines in restaurants such as Thai, Tapas, and Chinese.
All rooms are equipped with free WiFi, flat-screen TVs and you can ask for a room with a view of the Bellagio Hotel fountain if you wish.
The price starts from $80 per night.
The hotel is designed to accommodate every traveler, so some of them never want to leave it.
The Bellagio – the famous Italian themed hotel
The Bellagio is the on-strip chic hotel.
It is an exceptionally rated 5 stars hotel which was designed with special attention given to each and every detail.
You will be impressed with Italian-style gardens, an art collection, elaborate mosaic floors, and designer boutique stores.
Some of the facilities offered at the Bellagio are a huge casino, spa, five outdoor pools, a gym, various restaurants and bars, and dancing fountains shows.
You will have to pay more than $120 per night, but you will get an elegant room with marble bathrooms, private elevator access, whirlpool tubs, and a personal butler.
Artisan Hotel – the intimate boutique hotel
For individuals who are not interested in hotels with casinos, Artisan Hotel is definitely a good choice.
It is a highly rated hip Las Vegas boutique hotel.
What makes it different from others is that it is an adults-only hotel that offers a unique gothic underworld of a theme.
You will be amazed at deep red velvet furniture, candlelit areas, and ornate gilded statues. Visitors are astonished by reproductions of Cezannes, Chagalls, Rembrandts, and Van Goghs on the hotel walls and the ceiling.
Outside of the Artisan Hotel, there is a pool with cabanas where you can go topless if you wish.
The hotel boasts a farm-to-table restaurant, as well.
Free Wi-Fi, iPod docks, and flat screens are available in each room, while a suite is equipped with wet bars, walk-in wardrobes, and pool tables.
People visit this hotel due to the attractive nightlife, numerous bars, weekend parties, and live entertainment.
This place is located two blocks from the main Strip and the prices start from $40 per night.
The Cosmopolitan – a 5-star glamour and one of the sexiest hotels in Las Vegas
The Cosmopolitan hotel has a motto 'Less is Bore', so they designed countless bars and restaurants and a Moroccan-inspired spa with a hammam.
The 5-star exceptionally rated Cosmopolitan Hotel of Las Vegas will not disappoint any tourists, as it has to offer bright rooms with floor-to-ceiling windows and terraces.
For those who wish to have a view of the world-famous Bellagio fountain, there is an option of choosing the room with this view.
Individuals who take a suite will be able to enjoy pure luxury with dining areas and kitchenettes, private pools, terraces, and butler service.
Other facilities that this luxury hotel boasts are three outdoor pools, a gym, a casino, a wedding chapel, and an area for alfresco performances.
It is located on the main Strip, and the price you will need to pay for this beauty is at least $70 per night.
The Luxor – the kitsch Egyptian themed hotel
The Luxor is according to many visitors definitely considered the most unusual hotel in Las Vegas.
The Luxor Resort is located on the main Strip and tourists are amazed at an Aladdin's cave of kitsch where a  huge Sphinx welcomes visitors to a 30-story Egyptian pyramid which was designed of black glass.
Rooms actually represent the interior of a pyramid.
You will see giant pharaoh statues in the lobby and there is also a huge pool framed by towering temple columns.
If this is not enough for you, then there is the fun casino, spa, and suites equipped with soaking tubs and wet bars.
Everything is designed to please a visitor who will have to pay at least $40 per night.
The Cromwell – the strip's first boutique hotel
The Cromwell is an on-Strip hotel with a casino.
Besides excellent accommodation, people are attracted by non-stop parties.
This 4-star rated hotel boasts a vibrant energy that can be experienced at rooftop entertainment and palm-tree-lined pools.
Another highlight of this hotel is Giada, Vegas's hottest eateries.
Travelers can buy a souvenir from its unique gift shop, and stay in this cool Vegas hotel for the price of $80 per night.
Grand Red Rock – an award-winning hotel
The Grand Red Rock hotel is an award-winning 5-star hotel designed with great attention to detail.
It is located two miles from the Red Rock Canyon National Recreation Area.
There is something for everyone.
Visitors who want to stay at this hotel can enjoy the rooms which are fully equipped while those who are only evening guests can drink cocktails at the bar or dine at the hotel restaurant.
The hotel is proud of a three-acre outdoor pool and cabana space.
However, that is not enough as there is a bowling alley, 16-screen cinema, and spa and wellness center.
The only disadvantage of this hotel is that it is not located right on the Strip, but there is a solution for this as well,  as a shuttle service will whisk you there and back daily if that is what you want.
The money you need to pay for the room is at least $80 per night.
Serene Vegas Hotel – a budget boutique hotel
The Serene Hotel is an ideal place for people who are not interested in casino hotels.
Visitors are impressed with its rooms that are decorated with a colorful dramatic design.
Tourists can relax near the outdoor pool after coming back from all the chaos in the city.
When the suites are in question, they have a balcony or patio from which you can watch the action happening outside.
Some of the rooms have their own Jacuzzi bath, which is ideal for people who want to have a bubbly soak while sipping champagne delivered by room service.
This is the place from which you can look out over the Vegas skyline at night, and the price for this luxury is about $40 per night.
Flamingo – boasts old school kitsch decor and lashings of vintage style
Flamingo is an old-school kitsch hotel.
Actually, the Flamingo Hotel is for people who would like to experience how Vegas hotels were back in the 1950s.
It is set on the main Strip and it was first opened in 1946.
What the hotel boasts today are special retro quality and a lively atmosphere.
Tourists can expect black and candy-pink vintage style decor, outdoor pool, eateries, luxurious rooms, and suites as well as dancing girls on the casino floor.
To spend a night in this hotel you will have to pay about $40.
The Venetian – an elegant Italian themed hotel
The Venetian is a rated five-star hotel in Las Vegas that is both themed and elegant.
It is located in the middle of the main Strip, and it is so attractive to tourists due to a striking exterior and fantastic interiors that are so similar to the famous Italian city Venice.
Luxury rooms and suites equipped with soaking tubs are everyone's cup of tea.
Plus, the hotel has 20 restaurants, 10 outdoor pools, a glamorous spa, a lively casino, a swish shopping mall.
We cannot but mention the fact that this Vegas hotel has even trained pigeons and gondoliers meandering down canals.
As you can notice, the hotel is designed with huge attention to detail and the prices start from $120 per night.
New York New York – a fun themed hotel
New York, New York is a Las Vegas hotel located on the Strip which is a fun-themed place.
Its design is based on the New York City skyline while the interior is full of scaled-down replicas of New York landmarks.
Some of the replicas you can see include the Empire State Building, Chrysler Building, and Statue of Liberty.
This 4-star very highly rated hotel has the main lobby which shows the streets of 'Greenwich village' with fire hydrants and fake graffiti.
When it comes to rooms, they are so luxurious, with marble bathrooms.
This is an ideal place for people who want parties, as they can enjoy the weekend DJs and go-go dancers around the exterior buildings!
The price for a night at this hotel starts from $70.
ARIA Resort and Casino – a luxury resort and casino
ARIA Resort and Casino is a 5-star exceptionally rated hotel.
ARIA resort consists of various buildings that are located on the main Strip.
What it has to offer to its visitors is a casino with every attraction from traditional slots to more high-stakes cards.
It also has modern rooms with floor-to-ceiling windows through which you can take pleasure in the stunning views of the surrounding strip.
There are so many facilities at this Las Vegas accommodation, but we will mention only a few – spa treatments, three outdoor pools with palm trees, a mall, live entertainment, restaurants, rounds of golf, and fine art collections.
For $90 per night, there is something for every individual at the ARIA Resort and Casino.
Las Vegas Golden Nugget Hotel – a classic casino hotel
Las Vegas Golden Nugget Hotel is located in Downtown Las Vegas.
This is a 4-star hotel on Las Vegas Boulevard which is easily noticed due to its brightly lit façade.
The inside is also golden, as its name suggests.
Visitors can enjoy the elegance of this hotel, combined with both luxury and charm.
Plus, the hotel boasts eye-catching views from its bedroom windows.
For those coming for relaxation, there is a gorgeous spa, a tequila bar, and poolside cabanas.
With a significant casino space, the Golden Nugget is a place that deserves all the stars.
The amount you need to pay for one night at this hotel is $60.
Hotel32 at Monte Carlo – a luxury hotel in Las Vegas
Hotel32 at Monte Carlo is definitely one of the highest-rated places to stay in Las Vegas.
This amazing and breathtaking hotel is located on the top floor of the Monte Carlo on the Las Vegas Strip.
What you can expect from it is the ultimate celebrity VIP treatment.
There you will have a suite assistant who is paid to act on your every command.
Furthermore,  visitors are given an iPhone that acts as your "mobile concierge."
With this kind of service, you cannot expect less luxury when rooms are in question.
They are equipped with spa-like bathrooms and huge plasma HDTVs.
You should not leave the hotel without seeing the scenic rooftop view of the main strip, swimming in the outdoor pools, relaxing in the elegant spa, and eating at an Asian restaurant.
All these are available at the price of $100 per night.
Nobu Hotel at Caesar's Palace – one of the hottest hotels
Nobu Hotel at Caesar's Palace is a hotel within a hotel.
It is definitely worth visiting this tasteful Japanese-style boutique hotel that is located in the Caesars Palace on the Strip.
Nobu Hotel offers rooms that have a 5-star rating, equipped with flat-screen TVs.
Everything is designed with great attention to detail, and its features include black lacquered furniture and traditional Japanese woodblock prints.
When enjoyment is in question, there are swimming pools, a spa, a rooftop villa that offers a Strip view, a bar, and a Zen garden with a hot tub.
You should not go without visiting the world's largest Nobu Restaurant which was the first to offer teppanyaki in the USA.
Hotel SkyLOFTS at MGM – a stunning hotel that is located on top of the MGM Grand
Hotel SkyLOFTS at MGM is yet another 5-star exceptionally rated hotel.
This is the physical embodiment of the phrase "have your cake and eat it".
It is located on the Strip and you will be served by highly-trained, expert staff.
What the hotel considers its greatest feature is the Bang and Olufsen ® electronics in the rooms and the 24-hour personal butler.
It is worth noting that the hotel has other offerings, such as a Spa Butler, spa tub, and video game consoles, which are not available in other hotels in Las Vegas.
Hardwood Suite at The Palms – boasts exclusive suites, private bowling alleys, and a basketball court
You have already noticed that in Las Vegas there are so many bizarrely themed suites.
Another one that attracts attention is the Hardwood Suite at The Palms Resort.
It belongs to the category of bizarre hotels due to its own basketball court equipped with a locker room, three large beds, and a dance floor.
There is space for a party of 350 people.
For those who do not come for partying, there is a possibility to stay at the gorgeous 4-star highly rated Palms Resort where you will need to pay $40 a night.
Stratosphere Hotel – a hotel which is home to some hair-raising rides
Even though it is mentioned last, it does not mean that the Stratosphere Hotel deserves less attention.
This is yet another award-winning Vegas hotel located on the Strip.
You can enjoy six themed restaurants from Italian to a milkshake bar, an 80,000sqft casino space, and the theatre that features MJ Live, the World's Great Rock Show, and the LA Comedy Club.
As you can see, entertainment is the hotel's main purpose and these opportunities are never-ending.
The most important feature of this hotel is the discounted access to the Stratosphere Tower, which is the tallest freestanding observation tower in the US.
This tower boasts Top of the World fine dining and a Chapel in the Clouds wedding chapel as well as the famous SkyJump Las Vegas.
If you want to stay at this hotel, you will have to pay a reasonable price of $40 per night.