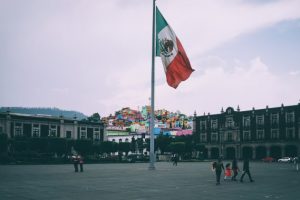 If you only think about Mexico as a place to have an amazing holiday, you are totally wrong as Mexico has much more to offer.
Even though holiday resorts made it famous,  you need to visit some other places than the capital Mexico City and explore some of the best places to visit in this country.
We would like to suggest the Los Cabos and beaches of the Caribbean Sea as well as remains of ancient and important civilizations.
Here is a selection of the most charming places to visit in Mexico:
Yucatán Peninsula – boasts ancient Mayan ruins, swimming holes, and stunning beaches

The Yucatan peninsula is located in the southern part of Eastern Mexico.

This is a very attractive place to visit, being that it possesses unique geology, natural beauty combined with an amazing coastline, and beaches.

The peninsula is well known for Playa del Carmen and Mayan ruins.

We definitely suggest that each tourist should visit Riviera Maya, as this is the most popular district in the peninsula.

This is heaven for tourists that look for holiday relaxation and enjoyment due to its all-inclusive resorts, luxury villas, and charter yachts.

Riviera Maya can be the most famous part of the peninsula, but this is not everything that the Yucatan can offer its visitors.

Another place that should not be missed when coming here is the state's national parks.

Parks are so famous for their incredible underground lakes also known as cenotes.

Furthermore, we highly suggest tourists visit the capital of the state, Merida.

Merida is full of tourists during the celebration of the famous Mexican holiday the Day of the Dead.

This is a 2-day festival that is celebrated on the 1st and 2nd of November.

Oaxaca City – well known for great gastronomy, culture, and historic architecture

Oaxaca City is located on Mexico's southern coast and it represents a combination of both natural and man-made beauty.

The city is known for its indigenous people, while ancient and traditional Mexican culture sites make it an exceptional travel destination.

Some travelers consider it the gastronomic capital of Mexico.

If you decide to visit Oaxaca, you should definitely try the famous mole – a complex sauce which is made by grinding chilies, peanuts, sesame seeds, chocolate, anise, and other herbs and spices.

Even though it is so popular, Oaxaca remains a small town and people coming there have that exact feeling.

Our suggestion is not to miss exploring the colonial architecture and make sure you visit the surrounding area full of white sand coastline, thick forests, and photogenic waterfalls.

Isla Holbox – a beautiful island

The Island of Holbox or Isla Holbox is an outstanding island where you can find both tourists and natives of Mexico.

What triggers the attention of tourists are outstandingly colored buildings in combination with Caribbean-style beaches.

The island boasts crystal clear waters and a variety of marine life.

The main reason why so many tourists visit the Island of Holbox is the fact that it is ideal for water sports, scuba diving, and snorkeling.

Some people believe that the name Holbox which means Black Hole in Yucatec Maya,  matches the island's personality, but that is not true.

There are people who come to the island just to enjoy the view of native birds such as flamingos and pelicans.

Those who like exploring the island in a car will be sorry to know that the Island of Holbox is a car-free area, and the only way to explore it is on foot or in golf cart taxis.

Bernal – a pretty, under-the-radar town

Bernal is not a place for travelers who prefer huge and busy cities.

Quite contrary, it is a cozy small-town whose citizens are believed to live longer than in other parts of Mexico.

Actually, the atmosphere in the city contributes to this.

Once you meet the locals, you will realize that they tend to limit stress as much as possible and live laid-back life.

The conversation with them will make you think that this kind of life is beneficial to anyone.

Bernal is a place where you can have many activities, as it is home to the third-largest natural monolith in the world.

So,  this is a perfect destination for climbers and you can notice both tourists and locals who take the challenge of climbing to its peak.

Lago de Patzcuaro – a lake that is the most beautiful attraction in Mexico

Lago de Patzcuaro boasts a beautiful beach with still waters.

The reason why we think that Largo de Parzuaro is one of the best places to visit in Mexico is that it was formed via a volcano and you can see a number of aquatic and semi-aquatic animals in its waters that are 5 meters deep.

Some of the most attractive animals there are the rough-footed mud turtle and the Mexican garter snake.

This outstanding place was the inspiration behind Pixar's Coco.

Isla Mujeres – a beautiful and relaxing island

Isla Mujeres can be visited if you take a boat ride from Cancun.

Isla Mujeres or better known as the Island of Women is a true tropical paradise.

This is the best place you can visit if you wish to run away from the craziness of Mexico City.

Being that this is a small island, you would say that there is little to do, but that is the main characteristic which attracts people to come.

You can do what is typically done on the island – swim, snorkel, do some scuba diving, or simply do nothing.

The island is frequently visited by tourists who take a day trip from Cancun.

Celestun – a village well known for being home to beautiful flamingos

Celestun is a village located on the Yucatan Peninsula, which you should visit if you wish to see pink flamingos.

Even though Celestun is a sleepy town, it becomes lively when tourists come to see not just flamingos but many other forms of wildlife.

The place is environmentally friendly and the only thing you can do there is taking pictures and relaxing so we suggest that you bring your camera and sunscreens.

Tourists visit this place during a day trip from Merida, as it is a 90-minutes ride away by bus that leaves every hour.

Puerto Vallarta – a resort town famous for its beaches, water sports, and nightlife

Puerto Vallarta is a holiday resort well known for its beaches, water sports, and nightlife.

The place is located on the country's west coast and it is the best possible choice for travelers who wish to experience Mexinal life by visiting simply one destination.

You can either enjoy sand beaches along Banderas Bay or explore the pretty old town of Puerto Vallarta which offers traditional architecture and art galleries combined with stylish restaurants and shops.

Cabo San Lucas Arch – a natural coastal rock formation

Another city, that is frequently visited due to its amazing sandy beaches, is the coastal city of Cabo.

Besides relaxing on the beach, visitors tend to like the world-class scuba diving locations and holiday atmosphere that this place offers.

The most famous attraction of Cabo is the natural rock formations that come out from the turquoise sea.

The Cabo San Lucas Arch actually sits at the meeting point of two seas.

This city which took its place in Mexican legend and folklore can only be traveled around on foot or by water taxis.

Mahahual – famous for gorgeous beaches, and Mayan ruins

It is well known that the Caribbean coastline is so attractive to visitors from each side of the world, but we cannot but mention Mahahual as one of the most popular places to visit.

This is not a huge tourist location, but a small fishing village on the surface.

What attracts visitors to this place are the beautiful turquoise waters and the serene nature of the area.

Everything is slower there, life moves slowly, which is exactly what makes both locals and visitors fall in love with Mahahual.

The weather is amazing there as well with temperatures that never reach above 85 degrees F.

So, this is where you can go if you wish to have a relaxing day at the beach during the whole year.

Morelia – a historic colonial building

If you wish to visit Morelia, it should not be only due to its beautiful beaches, but also numerous museums, art galleries, and historical buildings.

For those who choose this destination for the future holiday, it is worth mentioning that this colonial town experienced various battles during the Mexican War for Independence.

So, what tourists can see are monuments to these battles.

Plus, there is a multitude of stunning must-see sites.

Tourists are impressed with pink-stone buildings that can be found in the historic center of Morelia.

Our suggestion is to visit the historic site – the Temple of San Francisco which was built in 1610 and whose interior is so well-preserved in pristine condition by both locals and officials.

This temple is definitely one of the most photographed temples in Morelia.

Isla Espiritu Santo – one of the most beautiful islands in Mexico

Isla Espiritu Santo is set in the Gulf of California.

This is the 12th largest island in Mexico that is a home of rare creatures, so it is under UNESCO's protection.

The island is inhabited by the black jackrabbit, which cannot be found in any other part of the world.

Isla Espiritu Santo got the title of the most beautiful place in Mexico and it belongs to the group of the top 12 places to visit in the world.

Among many other attractions on the island, you will be able to see dolphins, whales, sharks, and turtles, while doing snorkeling and scuba diving.

Campeche – boasts baroque colonial buildings, military architecture, and walled historic district

Officially, this place is called the Free and Sovereign State of Campeche.

Campeche is known as a World Heritage site since 1997.

From that moment on, Campeche is so attractive to visitors who would like to see the archaeological sites Becan Ruins and La Zona Arqueologica Edzna, and the archaeological site of Calakmul.

Oher tourist attractions in Campeche are Chicana Mayan Ruins and Fuerte Museo San Miguel.

Due to its history which dates back over 3,000 years, Campeche is an ideal place for people who want to explore the history of Mexico and its archaeological sites, while still having a  chance to relax on its wonderful beaches.

The Copper Canyon, Chihuahua – a UNESCO World Heritage Site

Copper Canyon is another UNESCO World Heritage Site that consists of 6 distinct canyons in the Sierra Madre mountain range located in northwestern Mexico.

The Sierra Madre Occidental which is found in the southwest of Chihuahua consists of cliffs and caves that together make a formation that is bigger than America's Grand Canyon.

Visitors come here to see stunning panoramic views and go on canyon walks.

Valladolid – full of historic colonial buildings and home to one of the best cenotes

Valladolid is a city on the already mentioned fantastic Yucatan Peninsula.

If you come to this peninsula, you should not miss seeing Valladolid, the place which is known for its important colonial buildings.

One of them is the 16th-century Convent of San Bernardino of Siena.

What makes Valladolid stand out among all the colonial towns in Mexico is that it is home to one of the best cenotes in Mexico.

There are 6,000 cenotes in the Yucatan Peninsula, and Zaci is believed to be the best of all.

This cenote is unique due to the fact that its location is not on the outskirts of the city as the majority of cenotes are, but in the middle of Valladolid.

The setting of Zaci can be visited for just a few pounds, and it has to be on your must-see list.

Lacandon Jungle – a lush, green jungle where you can meet the indigenous people

The Lacandon Jungle is located in the area from Chiapas to the southern portion of the Yucatan Peninsula.

The Lacandon Jungle is best known for its astonishing wildlife and numerous photo opportunities.

What makes the Lacandon Jungle even more attractive is that it belongs to the largest rainforest in North America and that people there speak their own language.

So as to be able to communicate with tourists, they started speaking fluent Spanish.

Chiapas – full of stunning pine-forest highlands, beautiful rainforest jungles, and attractive colonial cities

Chiapas is an area characterized by and famous for rainforest jungles and ancient Mayan ruins.

We believe that Chiapas belongs to the most beautiful places to visit in Mexico.

This is a southern Mexican state that is next to Guatemala, and its must-see sites are the river-carved Canyon of Sumidero, the lakes at Montebello, and the ancient ruins at Palenque.

Chichen Itza, Yucatan – a historically important complex of Mayan ruins

Chichen Itza is yet another UNESCO World Heritage Site.

Plus, it is one of the new 7 wonders of the world which says enough about this place.

Chichen Itza represents a testament to the might of the Mayan civilization.

the imposing El Castillo structure makes this site one of the most stunning spots not only in the country but throughout the world as well.

We believe that this place should be on every traveler's list when visiting Mexico.

Chichen Itza is located in Tinúm Municipality, Yucatán State, and covers a radius of over 2.5 square miles.

So, you will need an all-day trip to this area, so as to be able to see everything.

Horsetail Falls, Monterrey – a unique natural waterfall

Horsetail Falls, waterfalls that are also known as The Cola de Caballo in Monterrey are definitely worth visitors' attention.

People come here to take photos in front of the cascades and the surrounding area.

Plus, some of them come to do outdoor activities, being that this is the best place for nature enthusiasts.

You can go hiking, bungee jumping, or canyoneering, depending on your interests and desires.

The Bufadora, Baja California – the second largest marine geyser in the world

The Bufadora in Baja California is a sea cave at sea level.

If you visit this place, you will be amazed by a massive spouting geyser in combination with an eerie sound.

You will be just one among many people who come there to just sit and enjoy the show.

It is considered that not only the cave is so attractive, but the rest of the region is worth seeing and exploring.

Being that this is the world's second-longest peninsula, it is full of magnificent mountains and dazzling beaches.

Mexico City –  a UNESCO World Heritage Site

Even though it is not at the top of our list, Mexico City certainly belongs to the best places to visit in Mexico.

You should not miss visiting Mexico City, a place that is rich in culture and history, which offers great food,  museums, and remarkable architecture.

Furthermore, the city boasts celebrated monuments that can be visited on foot such as Plaza de la Constitución, the National Palace, the Templo Mayor among many others.

Around Mexico City, there are various archaeological sites that can be seen during a day trip.

You cannot miss seeing the large volcanic mountains that are over 5,000 meters tall when you are in Mexico City, so you will be surrounded by various photo opportunities that you should take advantage of.

Guanajuato – a Spanish silver mining town

Guanajuato is the only city in Mexico that can boast so many stately colonial mansions.

This is the place where silver is being excavated even today.

What we need to mention about this city is that it is vibrant and rich due to its university, while at the same time due to the fact that it is a popular tourist destination.

You can easily explore the city on foot and admire gardens and the narrow passageways with flowers.

If you are in search of some escape in nature, you can visit the nearby mountains and go hiking.

At Guanajuato, a tourist can experience the best nightlife Mexico has to offer.

Tulum, Mexico – the Caribbean hotspot

Tulum, Mexico used to be a sleepy beach town, but it turned into a Caribbean vacation location that is now rivaling Cancun and Playa del Carmen.

Its main advantage is that it is still not so crowded as the other mentioned cities.

During the high tourist season, you can swim inside caves in the nearby cenotes or try the best seafood being that the town is especially famous for its prawns.

You can also go on a day trip to Sian Ka'an Biosphere Reserve.

This will give you the opportunity to explore and admire natural beauty during these eco-friendly excursions.

At Sian Ka'an Biosphere Reserve, as it is the World Heritage Site strives, people can only observe jaguars and monkeys, ocelots and pumas, marine life, and flamingos.

Mérida – the White City of the Yucatán

Even though it took the last place on our list, Mérida is certainly worth your attention and your visit.

It is worth mentioning that Merida is a colorful colonial Spanish city and belongs to the most beautiful cities in Mexico.

Merida was founded in 1542 and built on the ruins of the old Mayan city of T'ho.

Nowadays, it is the capital of Yucatán and it is a mixture of colonial and Mayan culture.

People who have seen it, consider it as something truly unique and unforgettable

Wat makes Meridal memorable are whitewashed mansions in the old walled town.

These mentions have been painted over with bright colors, which gives an even more vibrant look.

Mérida boasts the largest indigenous population in Mexico and curious tourists decide to come there so as to discover Mayan ruins nearby and make sure that Mayan culture is still alive.